Chelsie's childhood was far from idyllic. By 13, she was drinking and using drugs. At 17, she was kicked out of school for selling pills. Despite attending an alternative school, Chelsie graduated in the top 20 of her class. She attempted college, and dropped out both times. She married at 19 and had two children by the time she was 22.
"I quit using drugs when I got married," said Chelsie. "I was clean and sober during my first pregnancy. But by my second pregnancy, I had reverted back to what I knew … prescription drugs. I tried to detox but I simply could not quit."
When it came time to deliver her son, the Department of Children's Services (DCS) got involved because of her addiction. Chelsie was devastated at the thought of losing her kids and simply gave up hope. "I left. I abandoned my kids. I got divorced. I had no will to live and did not care what happened to me."
Eventually, Chelsie checked herself into rehab. But instead of getting the help she needed, Chelsie got involved with someone she met in treatment. This led her down a road of getting addicted to heroin and meth.
The vicious cycle of rehab and relapse was far from over for Chelsie. "There were numerous times when I was in fear for my life," said Chelsie. "When a man I was seeing set me on fire, I knew I was done. That's when one of my mom's co-workers told us about a program her daughter had gone through at Nashville Rescue Mission."
"I was in jail for failure to pay my child support when I had my phone interview with the Mission's Life Recovery Program," recalled Chelsie. "It was a relief when they told me I was accepted. On the day we arrived, we were given a tour of the building, and then my parents left. I remember being frightened. If I didn't get it right this time, I knew my parents were cutting all ties with me. My addiction had destroyed them. This was their last hope for me."
Those first few weeks were tough. "I began the program in October 2015," shared Chelsie. "Two weeks later, I found out I was pregnant. I already had two children taken away from me—I didn't want to lose this one, too."
Over time, Chelsie went from seeing God as a punishing God to one who was loving and caring. "I developed a personal relationship with Him," said Chelsie. "At times I could sense God asking me, 'If you lose the things that are important to you, are you still going to follow me?' And when I lost custody of my first two children, it was hard to say yes. But the Mission loved on me, supported me, stood by me, and reminded me … 'in God's time.' In that experience I learned to trust God."
"I'm so grateful for the Mission," said Chelsie. "There are few places that will accept pregnant moms who are addicted. I'm not sure where else I could have gone. It really was my last hope." With classes on topics like anger, boundaries, studying the Bible, and repentance, Chelsie said, "The classes were exactly what I needed. The counselors and life coaches were fantastic. The staff, volunteers, and other participants became my family. When my son Chevy was born, I asked my life coach and the director to be in the delivery room with me."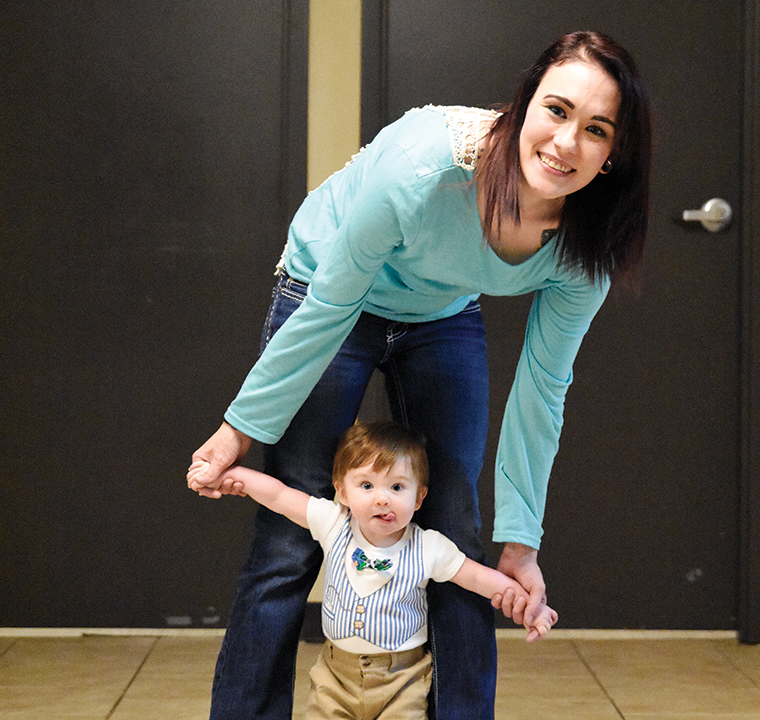 "Being Chevy's mom has made me the happiest person. With my first two kids I didn't have the spiritual component right in my life. Now that I've got that in place … I can focus on my son. I love him. He's so precious. Today I have a close relationship with my parents. During my graduation speech I was able to thank them for showing me the way. Thanks to them, I know I have eternal life."
"Nashville Rescue Mission gave me hope. I never had hope before. I thought I would die in my addiction. I never felt valued. Now I am finally okay with me."
"Today, I have an awesome job," said Chelsie. "I work for FASHIONABLE, a global company that makes beautiful products by women who have overcome. I do wire wrapping and stamping of the necklaces.
I'm also registered for classes at Volunteer State. I have plans to become an EMT, then a paramedic, and eventually a flight paramedic. "I've seen a lot of tragedy in my life … friends dying from suicide, overdose, and crime. It is my hope that once I become an EMT, I can show those struggling that there is another way out. It's so much easier to dig than it is to climb, but I want people to know they can put down their shovel and start climbing. It's hard work, but it's definitely worth it."
---
Help Chelsie and other women have a chance to encounter hope.