As an only child, Norman didn't have many friends. "I didn't understand how to make friends," recalled Norman. "I was home alone a lot. I would walk out the front door and invite people into our house. If they smoked, I'd smoke. If they drank, I would drink." One day, some of these "friends" robbed his house while he and his mom were shopping. They left a trail of stolen items leading back to their apartment.
"I was a scrawny kid, knocking on the door of some men who were fresh out of the penitentiary, asking for our stuff back," said Norman. "They beat me up, and I spent the next three months in the hospital on a respirator."
Concerned for his safety, Norman's mom sent him to live with his aunt. When that didn't work out, he stayed with his grandmother, and then his mom's ex-husband until he was caught stealing $5,000 worth of candy from his school. At 16, Norman had the option of juvenile hall or Job Corp. At Job Corp Norman found himself in the culinary arts program.
After completing his culinary program, Norman moved to Washington with his girlfriend whose aunt ran a restaurant, and hired him to cook. After a year, he accepted a job at the Boondocks, a restaurant whose clients included Bill Gates, Robert Plant, and Kurt Cobain. Norman learned from some of the greatest chefs and developed a reputation for preparing "made to order" Alfredo sauce. He had just turned 24—and he was a father of two.
"I was still smoking weed and drinking alcohol," said Norman. "But that changed following complications from surgery when I needed pain pills. I developed an addiction to them unlike anything I had ever experienced." That addiction took Norman down a dark path that led him to prison. He received four years for assault with a deadly weapon after using a beer bottle to defend himself in a fight.
"I thought I would spend the rest of my life in prison," said Norman. "I fought a lot and spent 2 ½ years in isolation. Sometimes I would talk through the vent to the person above me. I had no one. Until a guy introduced me to Tennille, and for the next two years, she was my pen pal." Upon his release, Tennille invited Norman to live with her. It took some time, but he settled down. He got his kids back. He opened his own tattoo shop. Life was good—until a cousin convinced him to try heroin.
"The minute I did, it cost me everything. I lost Tennille, my kids, my business, my house, and my car. I contemplated killing myself. When a random stranger offered to take me to a recovery home. I agreed to go."
Feeling like an outsider, Norman left and eventually landed in Nashville. Over the next several weeks, Norman worked day labor.
"One day a worker told me about Nashville Rescue Mission," said Norman. "He said I could get a meal and take a shower for free. It sounded good. After awhile, I started sleeping at the Mission."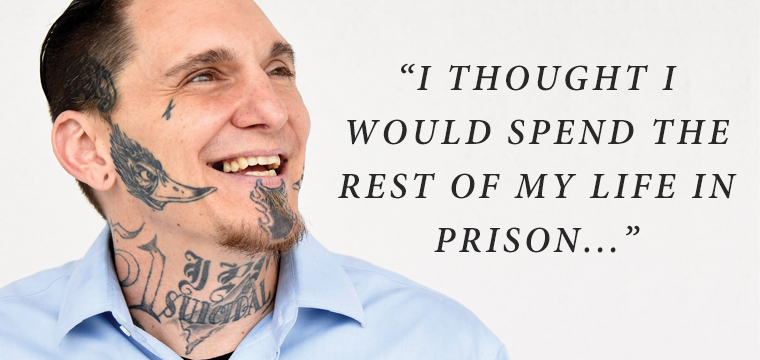 One night Norman was drinking and playing pool, when the bartender told him someone bought him a line of shots. "I was drunk and didn't care who bought them," said Norman. "So I tossed them back. When I woke up in the ICU, a nurse told me someone beat me up on the pedestrian bridge and then threw me over onto the railroad tracks. When the paramedics arrived, I wasn't breathing."
It was a miracle he survived. Norman left the hospital with one eye swollen shut and a walker. He was homeless. It was February and cold. Luckily, he had the opportunity to recover from his injuries at the Mission. "I started going to recovery meetings at the Mission when a case manager asked me if I wanted a Bible," said Norman. "One day I said yes. He prayed over me, and things started to change."
"I was sitting at a table eating lunch on Good Friday, when a clean cut, nicely dressed man sat down," said Norman. "When he asked me what brought me to the Mission, I shared my story. It surprised me when he said he was a counselor for the Men's Life Recovery Program. He didn't judge me. He accepted me. And when he invited me to consider the Mission's program, I accepted."
Over the next six months, Norman would learn so much about God, making friends, and living with other men also struggling with addiction. Norman was being transformed into the image of God. "I had lots of questions," said Norman. "I was curious about the Bible. I studied verses in as many translations as I could. I enjoyed discussing what I had learned with those around me."
"Before I came to the Mission, I was loud and cussed a lot," said Norman. "But God changed me. He transformed me. And He used the people of Nashville Rescue Mission to work on me. I'll never forget the day I was mopping as part of my work therapy and I got frustrated. One of the guys asked me if I wanted to pray. That was foreign to me. I threw the mop down, raised my hands up, and shouted, 'God help me, I can't do this.' In that moment, I surrendered … I prayed and didn't even know that's what I was doing."
For Norman, a life in Christ looked different than anything he had ever known. Two days after graduating from the Mission's Program, Norman was baptized and joined a local church. Over the next year, Norman reunited with Tennille and soon after they married. He started working as a kitchen manager for the Mission and recently accepted a position with UniFirst Corp.
"I wouldn't be here without the Mission," said Norman. "I'd be dead or close to it. I'm grateful for this gift of new life. I'm living for the Lord now. I know some people have a hard time getting past my tattoos, but my tattoos are not who I am. In fact, I think people are able to see Christ in me more when they see where I've come from. I'm transforming my existing tattoos into messages of hope, truth, and grace."
"Today, my life is time with my wife, my kids, and church," said Norman. "The day you don't see me in church is the day you need to worry. My church family is beyond any kind of family or friends I could have hoped for or imagined. When we didn't have something we needed, they helped provide it. Between my church and the Mission, I have more friends than I can count."
---
Want to help others like Norman? You can donate here.