As you gather around your table this Easter season, who will join you? Will you invite your family, friends from church, coworkers, even neighbors?
For the man, woman, or child who is homeless… where can they find a seat? What table will they sit at this Easter? At Nashville Rescue Mission, there is room enough for everyone.
Easter is a time for the Christian community to celebrate the resurrection of Jesus Christ. It's the gift of new life. It's a time when the Mission hopes to lift the hearts of the poor and homeless in the community with a traditional Easter meal and bless them with the gift of love.
The Easter meal can be an opportunity for the homeless to seek renewal. And the Mission provides an opportunity for everyone to participate in the festivities. The Mission expects to serve over 6,000 meals between Good Friday and Easter Sunday. Volunteers will be serving heaping helpings of eggs, bacon, hash browns and fruit, for breakfast, followed by a traditional Easter lunch of ham, green beans, mashed potatoes, salad and desert… not to mention a friendly smile.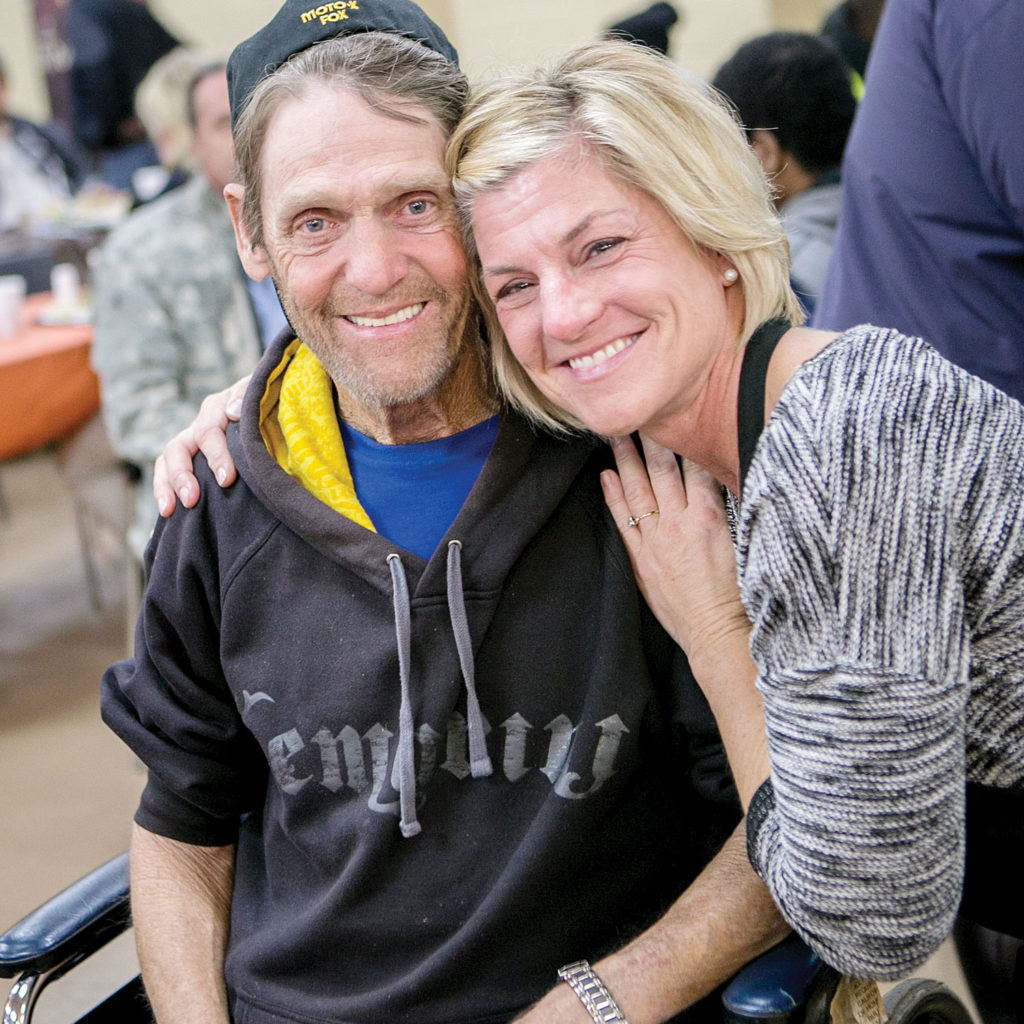 "A meal can be the entry point for someone who is struggling with homelessness," said Rev. Glenn Cranfield, president and CEO of Nashville Rescue Mission. "As we fill those in need with good nutritious food, we also hope to introduce them to the other services and programs we offer that can help them get off the streets permanently. So many of our guests are newly homeless—they were not homeless a year ago, but due to job loss, foreclosures, and other difficult situations they are now seeking our help. We know many are looking for a program based on Christian values, which is something we can offer them at Nashville Rescue Mission."
"I came to the Mission on Good Friday of last year to eat lunch," recalled Norman. "It was a big day with TV crews and even Nashville's Mayor was here. I was escorted to my seat and sat next to Brian, who asked me many questions. I thought he was a reporter and shared my story with him. I was surprised when he told me he wasn't a reporter, but rather a counselor on staff at the Mission. He didn't judge me, but instead invited me in to the Mission's Life Recovery Program. Easter Sunday was the first time I ever spent the Easter holiday in a church. Something changed for me that day. I knew God was speaking to me. I entered the Mission's Life Recovery Program the next day. I graduated the program in November. Today, I've been set free from the chains of addiction. I am using my training as a chef to prepare meals for the very men I once walked the streets with. It's my prayer they'll find their way upstairs like I did. And maybe, just maybe it might start with a meal I've helped prepare."
"At Easter, we celebrate the death and resurrection of Jesus and the freedom and redemption He brings," said Cranfield. "Norman experienced that freedom and redemption every day here at the Mission. For him, it's more than just a second chance. It's an opportunity for a new life."
This year, the Mission will serve a special Easter meal on Good Friday, as well as Easter Sunday. We pray the love of Jesus will shine brighter through the gifts of a meal and humble service to our homeless friends and neighbors in need. Because Jesus lives, there is room for everyone this Easter season.