As Jesus famously said, "Follow Me."
To follow Jesus is to get to know Him, to trust Him, to learn His ways… In that same spirit, we started a new series where we bring you through the walls of the Mission, letting you in on what's going on, earning your trust, and sharing all the ways we see God move through this building.
#FollowMe into the kitchen and learn about how we serve anyone whose hungry, 3 times a day, 365 days a year.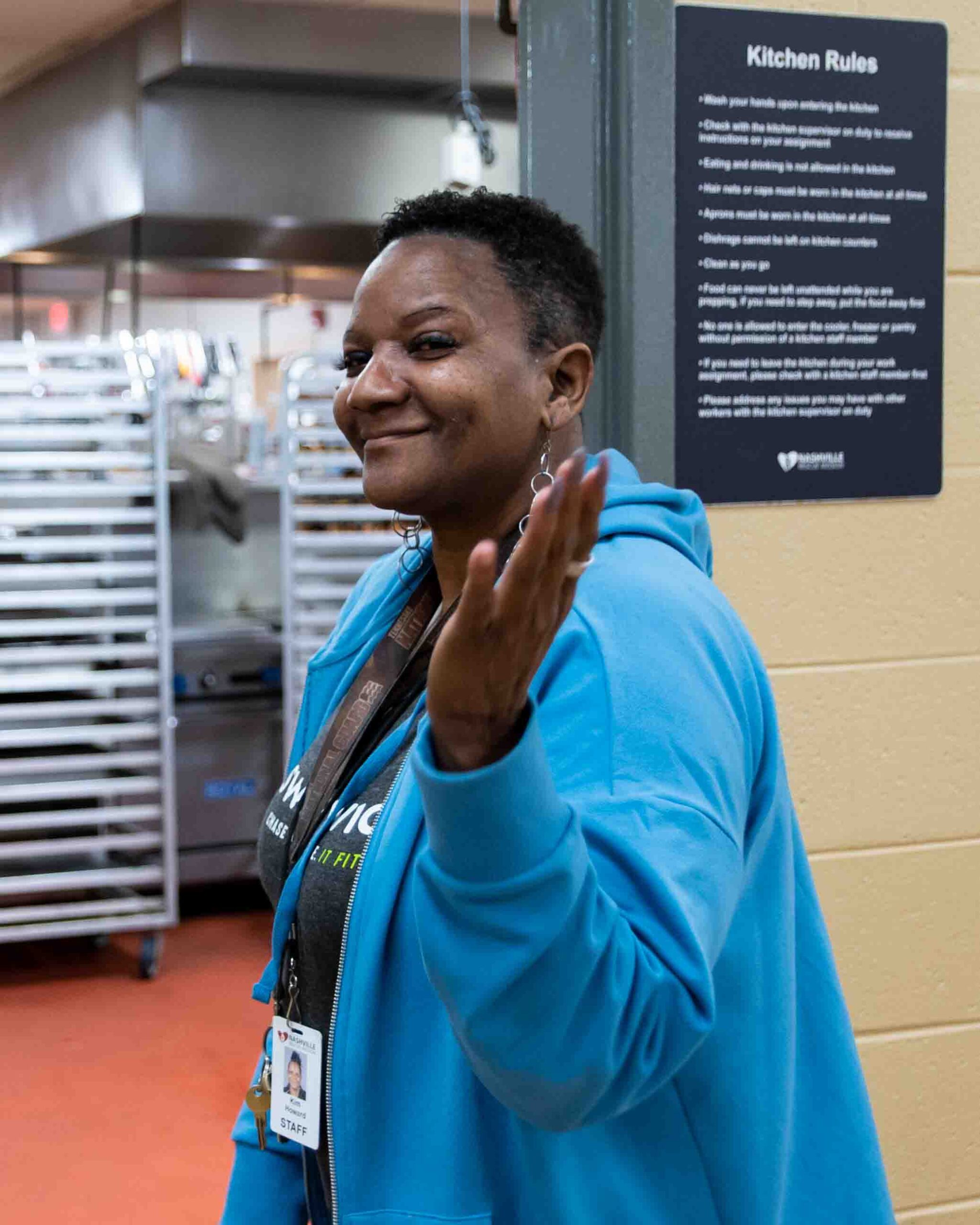 Kim Howard was an addict for 30 years until she came to Nashville Rescue Mission.
"It changed my life."
She's been an employee at the Mission for the past 11 years and is now a kitchen manager and cook.
"The kitchen from a bird's eye view is like a well-oiled machine. Everyone knows what they're doing; everyone has a job to do and a place to be in the kitchen."
Within a two-hour window of time, "we serve about 600+ people. I couldn't do it without my support system, without my team."
The kitchen at Nashville Rescue Mission is run in a succinct and systematic way, and at nearly all times, there is preparation for the upcoming meals taking place as others are seeing the current meal through. The only way this happens is through incredible project management and teamwork.
Kim has learned a lot working in the kitchen: "Be humble. Everyone has different personalities and opinions; learn to listen."
That same outlook encourages the many staff members and volunteers who work in the kitchen to be respectful of each other and work together to serve those around them.
People often kindly donate canned goods, fresh foods, as well as prepared foods to the Mission. Because of this, the leaders in the kitchen have to keep their heads on a swivel so they can get creative with incoming food donations. Some foods have an approaching expiration date and others have longer shelf lives. Juggling all the pieces to maximize Mission donations and provide varied hot meals for guests is a huge task that Kim and her team do so well.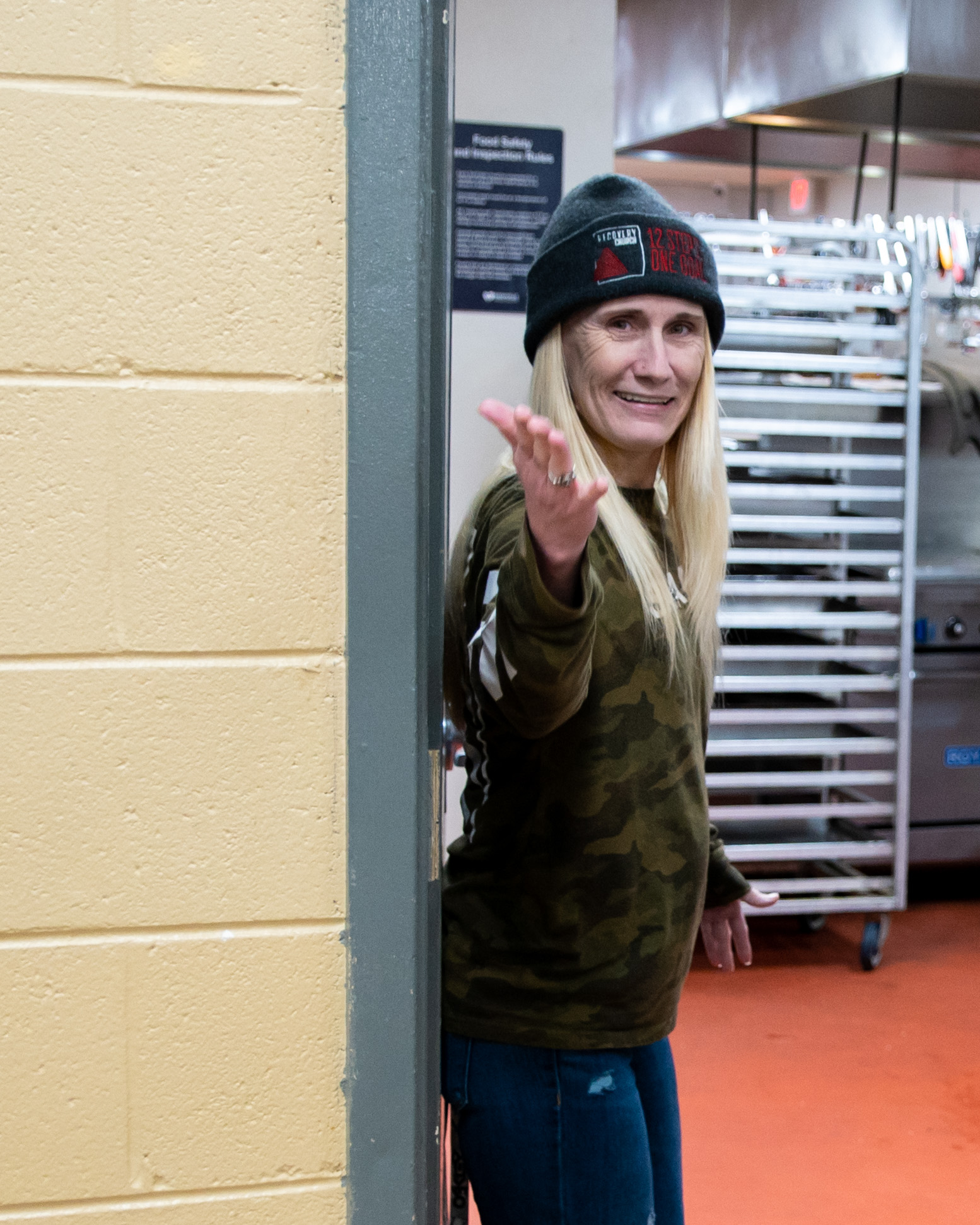 Angie, a cook in the Nashville Rescue Mission kitchen, graduated from the Life Recovery Program and then started working for the Mission over a year. She's been on staff at the Mission for over a year!
"We prep, cook, clean, and have a good time. We work together to make sure things are done and have fun doing it! I was on drugs and in and out of jail since I was 19. I came here in 2021 to the Life Recovery Program. Since I have found God, I have had an amazing job and community. I have my daughter back."
Unless you worked in the kitchen, you wouldn't know "how much we rely on each other. Working together is the most critical part. I've seen God working in the kitchen just by seeing how grateful some of these people are to have a hot meal."
The kitchen's team comprises of employees, volunteers, and Life Recovery Program participants engaging in work therapy. Most of the people who work in the kitchen once graduated from the Life Recovery Program. It's a beautiful sight to see people want to give back to those in need, often because they found themselves in a similar place before, too.
Over the years, important changes have been made, thanks to our CEO: Glenn Cranfield. Anyone can come receive a meal at Nashville Rescue Mission, even if they are staying at the shelter as a guest. All one has to do to eat a meal is simply come at meal time and hop in line to get a tray. If someone has never stayed at the Mission before and they come late at night and are hungry, our case workers work with our operations team to get them a sack lunch.
The Mission serves around 800 men, women, and children on a daily basis and the needs of the kitchen fluctuate according to the donations brought to our door. THANK YOU to all those who work in the kitchen, donate to the kitchen, and volunteer in the kitchen. The Mission is able to feed many people three hot meals every single day because of your time and generosity!