After years of drug abuse and marriage problems, followed by episodes of homelessness, and desperation, Megan will celebrate this Mother's Day, clean, sober, safe, and with her four-year-old son Timmy.
"I married my high school sweetheart," said Megan. "I thought we'd have kids and grow old together. But what I didn't imagine was being eight months pregnant, living with a drug addict, and being robbed by someone pointing an AK-47 at me.
This was NOT the life Megan imagined.
After their son was born, Megan's joy turned to depression when she discovered her husband's unfaithfulness. She was devastated. She found herself sinking further and further away, resorting to prescription pills, meth, and crack cocaine to avoid feeling the pain. Her drug use escalated along with her husband's.
"Things went from bad to worse. I let go of everything. My family tried to stage an intervention. Everyone wanted to help, but I was too blind to see it." The life Megan had imagined crumbled before her eyes and she felt powerless to do anything about it.
"Looking back, there were times when DCS (Department of Children's Services) could have taken Timmy away, but didn't. His father received two charges of child endangerment but somehow our case slipped through the cracks. My poor son was practically raising himself."
She soon found her and her family homeless and living in an abandoned barn. Living in such poor conditions, she got sick and wound up in the ER. It was at that point she decided it was time to detox. Nine days later, she relapsed and her husband left her.  "I felt like I didn't have anything left to live for.
But she did. Megan had Timmy. And being Timmy's mom was enough for her to cry out for help. "I started looking for a place to go, somewhere safe, somewhere I could try to figure out what to do now that the life I had hoped for shattered."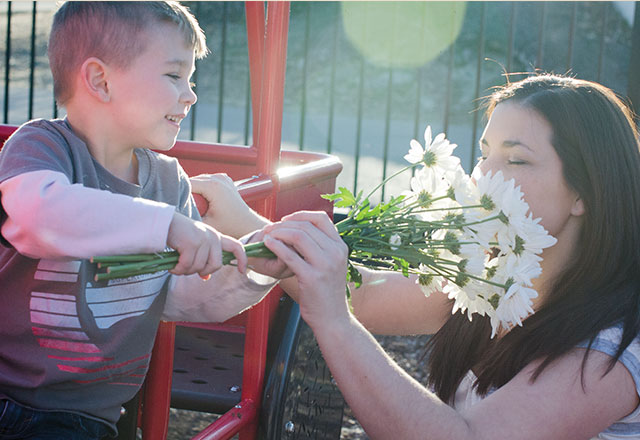 Megan's search led her to Nashville Rescue Mission. "We spent two nights in the emergency shelter, when I met someone who had graduated from the Mission's Life Recovery Program. Her story was similar to mine. She went through the program while raising her two-year-old daughter. I knew if this mom could survive what she'd been through, I could do it too, or at least try. Her story gave me hope."
Today, Megan has hope for the future—both for her and for Timmy. "The Mission's Life Recovery Program has given me a second chance. I'm getting to know my son. He's the sweetest little boy in the world and I love him so much."
Megan's excitement in seeing the changes take place both within herself and with her son is obvious. "Timmy is experiencing structure and routine for the first time in his life. I missed so much of the first four years of his life because of drugs; I'm determined not to miss any more. I'm rebuilding the bonds of trust with my family. Nashville Rescue Mission gave me another chance. I'm thankful I found a place where I could get the help I desperately needed, while also learning how to be the best mom to Timmy I can be."
It is through YOUR support lives like Megan and Timmy's are forever changed. Your gifts make second chances possible. Thank you for giving!