Wayne struggled for years before stepping through the doors of Nashville Rescue Mission . . .
"I came here in [the month of] December," Wayne remembers, after trying to take his own life—twice.
"The hospital couldn't find a place for me to go, so my sister—God bless my sister!—started making phone calls and found [Nashville Rescue Mission]. I got out of the hospital on a Wednesday, and I was here Thursday morning."
But long before Wayne found the warm welcome and fresh start he so desperately needed, he'd lost nearly everything else in his life—including hope.

"It all started innocently enough," he says. "I had an issue with my back, my arms going numb. They tried physical therapy first . . . and they were giving me pain pills."
Wayne continued with the physical therapy and pain pills for about a year with no relief, so he finally decided to have back surgery.
"After the surgery, my doctor cut me off from the pain pills." So Wayne started seeing multiple doctors to get more pills—but "every emergency room in this city knew me by name . . . and of course, they cut me off," he says.
Wayne then discovered you could buy pain pills online, but that only lasted for a short time. "Then I had to start buying off the street . . ."
---
Unable to escape from the cycle of pain, his condition finally led to a downfall.
---
"I was able to work, but I was broke—all the time," Wayne says. His dependency finally cost him his home, his car, and even his relationships. "I just felt I didn't have anything to live for," and he was desperate for help.
The pills dominated Wayne's life—and nothing else mattered . . .
"I could not put them down," he says. "And didn't want to put them down. When I woke up in the morning, the first thing I was thinking about was, 'Where am I going to get the next pill?' And, more importantly, 'Where am I going to get the money to get the next pill,'" he recalls.
"It became a vicious cycle, and I just felt that the world would be better without me." That's when Wayne tried to take his own life . . . which ultimately brought him here—to Nashville Rescue Mission.
Wayne remembers his first reaction when he heard the name Nashville Rescue Mission, "The only thing I thought about was homeless people. I had no idea they had a program."
---

I had no idea the mission does everything it does—it does so much for so many.
---

Like so many others in our care, Wayne found hope in God's saving grace.
"I'd been saved when I was young, but I had moved so far away from God," he admits. "I know what Nashville Rescue Mission has done for me. It saved my life—not only my physical life, but my eternal life," he says. "It turned my life completely around!"
Today, Wayne serves at the Mission helping others who have graduated from our Life Recovery Program to "true transitional living!" he says. "I've had many different types of jobs in my life, but this is the only job I've ever had that I love. I don't look at this as a job, I look at it as a ministry: this is what God wanted me to do," Wayne says.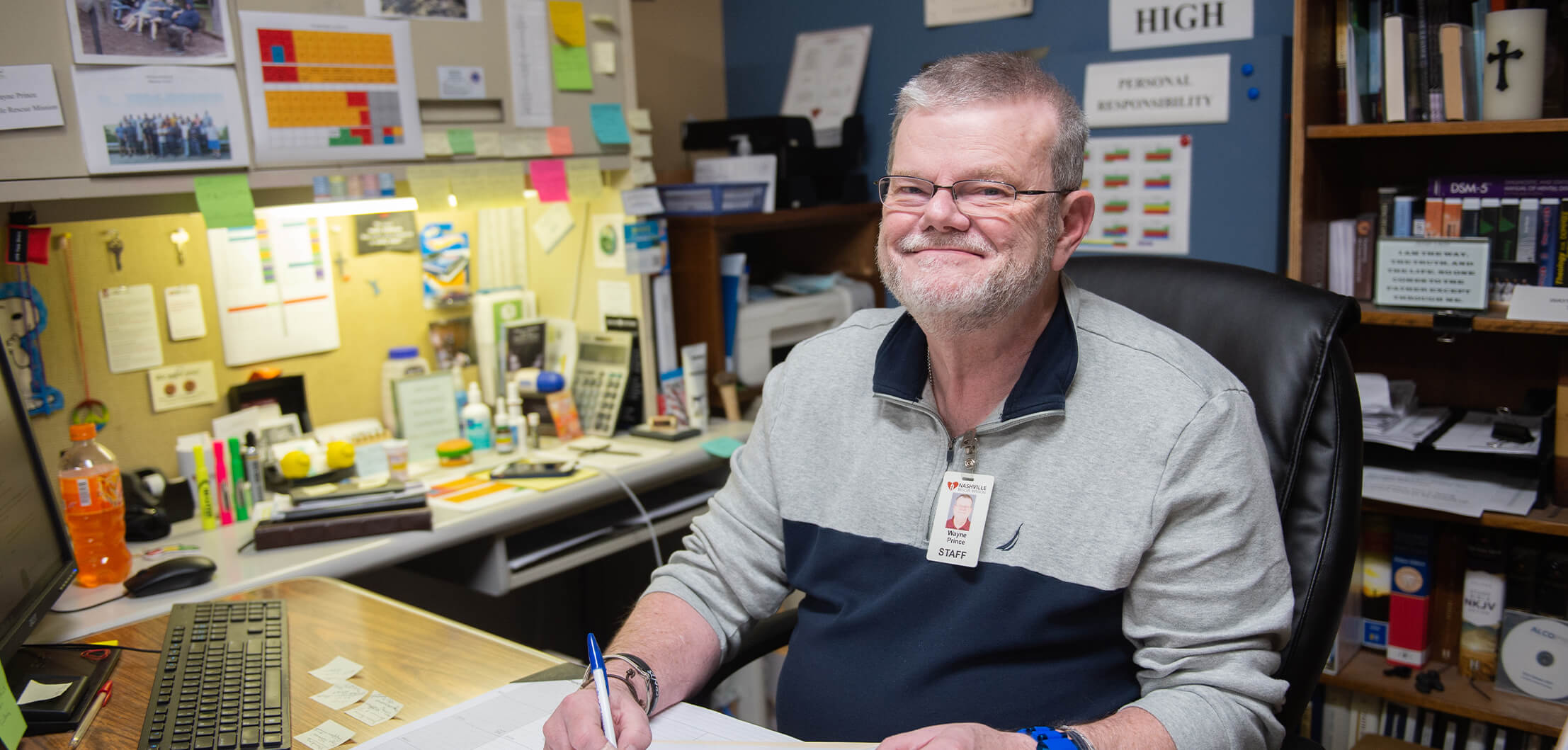 "There are so many different people to meet, so many stories, so many different traumas to deal with. But I know that God's help can pull them through it—just like He did with me."
Such transformation couldn't happen without support like yours, especially as the busy fall season approaches and so many more come through our doors.
"Sometimes, I wonder what Nashville would be like without Nashville Rescue Mission," Wayne says. "To me, it's scary—because where can you go to have a roof over your head and three meals a day . . . seven days a week, 365 days a year? As long as I've been here, they've never skipped a meal, ever . . ."
---

That's thanks to the generocity of the people of Nashville—it's amazing!
---