"The Mission grew me into the man I am today. It was my daycare. It was my first job. It's where I donate and bring my kids to volunteer."
Shane Miller grew up at Nashville Rescue Mission. His grandfather, Brother Carl Resener, was involved with the Mission for 41 years, acting as CEO from 1971-1998. When he was just a baby, his mother would bring him to the Mission while she went to work, leaving him to spend his childhood at the organization that would come to be part of his family's legacy.
"When I was about 13 years old I got my first summer job. I helped with the construction of the [current] building. We demoed and reconstructed the downtown Sears Department Store for the Mission's use." This gave him a behind-the-scenes look at how his grandfather implemented leadership in the organization's development and growth over multiple decades. It gave him the unique opportunity to be constantly surrounded by those that were different from him. It enabled him to learn empathy and compassion at a young age and instilled character traits beyond his years.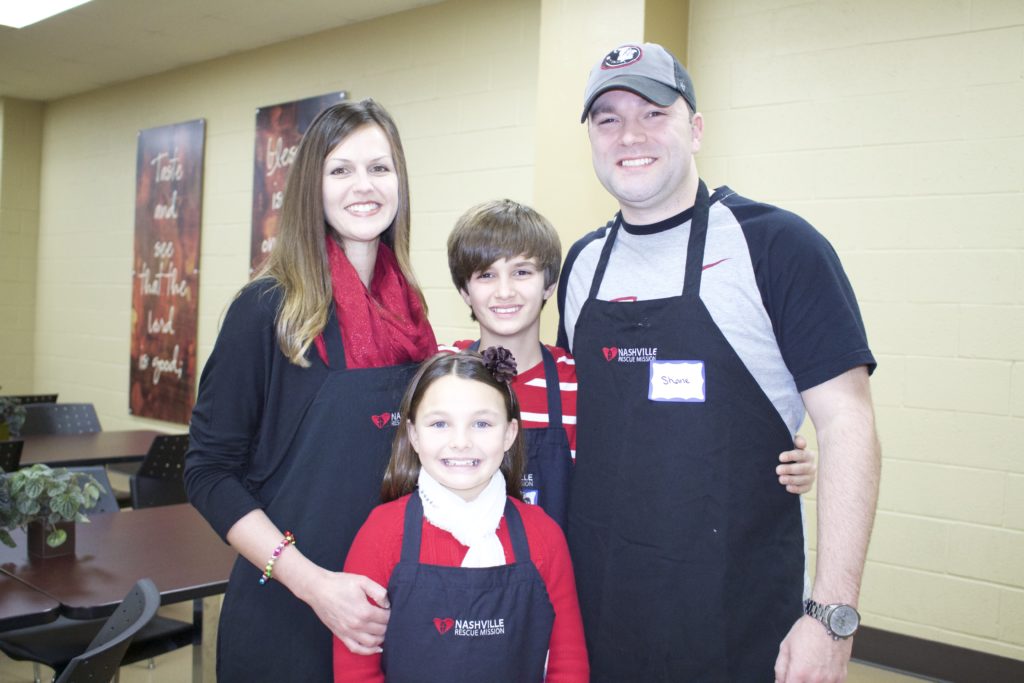 "I remember being just seven or eight and watching my grandfather greet the men every single morning. He'd look them in the eyes and say 'hello,' or 'good morning,' and thank them for being there. I didn't understand why he did that so I asked him. He told me that he was sure to talk to each individual because there was always a chance that a warm greeting could change someone's life." This dedication to pursuing relationships and sustainable change wasn't wasted on Shane. These are the same values that he's currently teaching his own children, encouraging them to treat everyone the same and exude positivity and happiness. "We're in a world that thrives on negativity. Nashville Rescue Mission is the place you can walk into and see happiness and smiles and people working so hard to change their lives for the better. Everyone is excited – whether its an employee or someone being served."
To continue the Resener legacy, Shane continues to bring his two older children, Tyler and Kaydence, to the Mission to volunteer in the kitchen. He wants them to grow up with the same dedication to serving others that he was surrounded by. "Everyone who works at the Mission and donates their money and time is continuing right where my grandfather left off," he shares. 'If he could be there he would have a smile on his face. It's grown so much and is an explosion of kindness. I'm blown away every time I step in the building."