Mike and Debbie have a heart for those in need. They've worked in full-time evangelic ministry for years, traveling across the country while ministering at churches and camps. During one visit to Oklahoma several years ago, they served alongside Glenn Cranfield, now Nashville Rescue Mission's CEO, and his wife Shelly. In conversations together, they shared their thoughts on how they could help those in need while using their creative ideas to make a bigger impact. "It was a time to dream," said Mike.
A few years later, Mike and Debbie relocated to Nashville. They researched local organizations to see which ones they would support. When they came across Nashville Rescue Mission, they were intrigued. "We found a nonprofit we could fully believe in," said Mike. "An organization that combined emergency help with sustainable hope and transformation was something we could get behind." They continued to support the Mission financially for several years, reading the newsletter each month, and being overjoyed by the inspiring stories of hope. "Sadly, we'd never seen the Mission's work up-close, and personal."
But that was about to change. Imagine Mike's surprise and delight when he received a text message from Glenn asking if he and his wife Debbie knew anything about the president and CEO of Nashville Rescue Mission back in 2012. While Mike's answer was, "no," ironically it was Glenn's way of letting them know he and Shelly were moving to Nashville, as he had accepted the position of president and CEO of the Mission.
Over a "Welcome to Nashville" dinner, they chatted with the Cranfields about the city and the Mission's impact on the homeless community. "Glenn asked us if we'd ever visited the Mission. We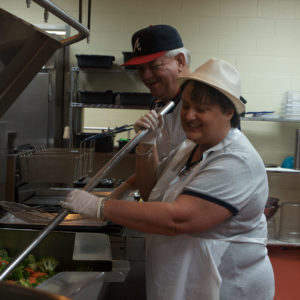 hadn't," Mike recalls.
After that, Mike and Debbie scheduled a time to serve lunch at the Mission. "It was a moving and hopeful experience," shared Mike. "Seeing our gifts in action enabled us to see a new side of the organization. We were able to observe God using people in their gifts and skills to glorify Him and help the least fortunate."
For more than two years now, Mike and Debbie have continued to serve lunch once a week at the Men's Campus of the Mission. But they do much more than meet a physical need by preparing and serving food. They've developed deep friendships and mentor relationships with the men in the Mission's Life Recovery Program, offering them encouragement and witnessing their transformation while progressing through the program.
"We have the privilege of watching a man come into the program with his head down, ashamed, and in dire need," shared Mike. "We then get to watch him progress over the next few months, graduate, and get a job. We can name so many of the men we've met! They're on the right path and are productive citizens."
Debbie, who recently suffered a stroke, still appreciates her time volunteering at the Mission. She's able to use her skills to help others in a community environment outside of their home. It gives her hope, positivity, and encouragement. Many men have invited Mike and Debbie to watch them graduate from the Mission's program, especially in place of their biological families who may not be able to attend. This, Mike says, is the highest honor.