Summer is here. School is out. Most kids can't wait to go to the pool. Some kids are headed to summer camp. Others will be going on vacation, maybe to the beach, or to visit family. And then there are others who do not know the blessing of a vacation, much less the thought of summer camp, or even going to the pool for that matter. There is a growing portion of the population who have never experienced these luxuries—the homeless. Their summer is spent on the street, at shelters, living in cars, or bouncing between houses belonging to friends and family. It's especially difficult when children are involved.
Before Marci and her four children, ages ranging from nine to 16, arrived at Nashville Rescue Mission, they weren't thinking about how they were going to spend their summer vacation. They were wondering where they would sleep that night, when and where their next meal would come from, and if they would be blessed with a warm shower any time soon.
"After my kids' father left and chose a life of drugs and addiction, we became homeless," said Marci. They have stayed with friends and relatives. Sometimes they have slept in their car and other times on cold, concrete floors. This past winter Marci and her kids, "Lived in a house with no toilet and no electricity … we took cold showers for six months. It was horrible."
Once they moved to Tennessee, a counselor at her daughter's school told Marci they could get help at Nashville Rescue Mission. "I called the Mission and was told, 'Come on, bring your kids, come in right now.' I've had no luck calling shelters in the past," said Marci, "They are either full or don't take mom's with kids."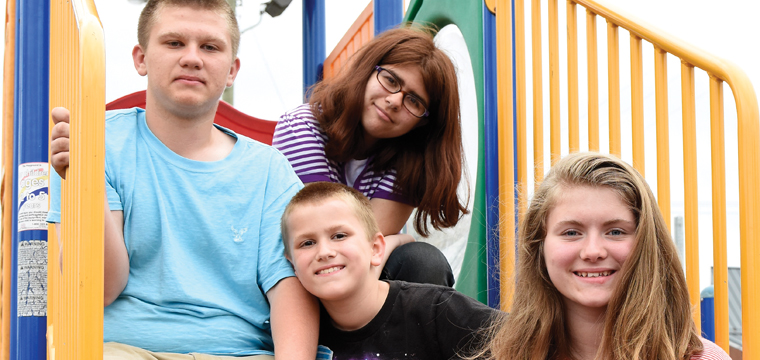 When they first arrived at the Mission, Marci's expectations were low. But once they got checked in, she was pleasantly surprised. "It's not what I thought it would be," shared Marci, "it is better, much better."
The Mission offers case management to determine each person's unique circumstance and needs. Marci is getting help securing proper identification, has access to computers to look for job opportunities, and is getting assistance applying for housing.
"I never imagined I'd be where I'm at right now," said Marci, "When I was a kid, I thought, I'm going to be married and live happily ever after. You know, situations happen. If the Mission wouldn't have been here when I needed them, I don't know what I would have done; we would probably be on the street, no telling where."
According to the National Center on Family Homelessness, a staggering 2.5 million children are homeless each year in America. This historic high represents one in every 30 children in the United States. Determined to get their lives back on track, Marci has worked hard to get her kids settled into a new school and is looking for work.
"My kids like it here, and it's good we are here for now," said Marci. "But we are not planning to stay." Marci's ultimate goal is to secure housing and provide a more stable environment for herself and her children.
"I'm grateful for this place," said Marci, "If I had to pay to stay here or somewhere else, I couldn't do it. I don't know what I would do. I'm so grateful. My kids can lay their heads down at night and sleep on comfortable beds. We have a shower … we can take baths every night. It's amazing. And I'm grateful."
With your help, families like Marci's can find hope for tomorrow. Because you care enough to give, the Mission can provide homeless families food to eat, clothes to wear, a safe place to sleep, and a hot shower. At the Mission, these families can attend classes on nutrition and parenting, and receive encouragement through daily devotions. All of these things are made possible through your generosity and support.
---
If you would like to provide hope for those the Mission serves visit this link.