For hurting neighbors like Angie, grief and loss can often be the catalyst to finding hope at Nashville Rescue Mission and a future with the Lord . . .
Angie sees challenges within her family that go all the way back to childhood, when she went to live with her grandparents after being taken away from her own mother.
"My mom lost custody of me when I was 3," she says. "I lived with my grandparents. And then my grandpa died at 90."
Losing him pushed her further into a place of instability and drinking far more frequently. "I went deep into addiction—for years," she recalls.
And no matter how far she was able to move ahead with her life, that dependency never let her go, until, separated from her daughters, Angie ended up on the streets . . .

"It was rough," she says. "I was broken. I lost everything. I would sleep in my car." Sadder still, "I didn't really care because . . . my addiction . . . that's all I cared about."
For 20 years, Angie tried to quit on her own, but she could never find freedom. "I couldn't do it by myself," she says.
The power to change had to come from God, and He moved her heart with words that Angie will never forget . . .
"My daughter said, 'Mama, go get help.' Two months later, I ended up here," at Nashville Rescue Mission. "Ever since then, wow, this place has done wonders," Angie says.
"If it weren't for this place and God, I don't think I'd even be here now!"
Soon, Angie was enrolled in our Life Recovery Program, where God continued working in her heart to overcome years of separation from her faith. "I had long gone from that. I'd never even thought of God before this. This place brought me back to Him," Angie says.
"I get down on my knees every night and pray. I couldn't do anything without Him," she shares gratefully. "He is with you and will never leave you. Just ask Him. That's all you've got to do: just have a little bit of faith, and He'll do the rest."
For Angie, that meant walking away from her addiction—for good. "He took the urge away: He gives me the strength to do this!"
And after completing our Life Recovery Program, Angie has gone on to join Nashville Rescue Mission, serving faithfully in our kitchen.
"I've been working here to give back to what has been given to me, and I love it!"
Her impact extends far beyond providing a welcome plate of food. She knows the struggles of those she's serving firsthand, and she's there to listen, to help.
"It makes your heart heavy. It makes you feel sad. But then you turn around and see the volunteers here who help, and they all work together to make it work! Just knowing I had a part in that gave me more reason to help more people," Angie shares.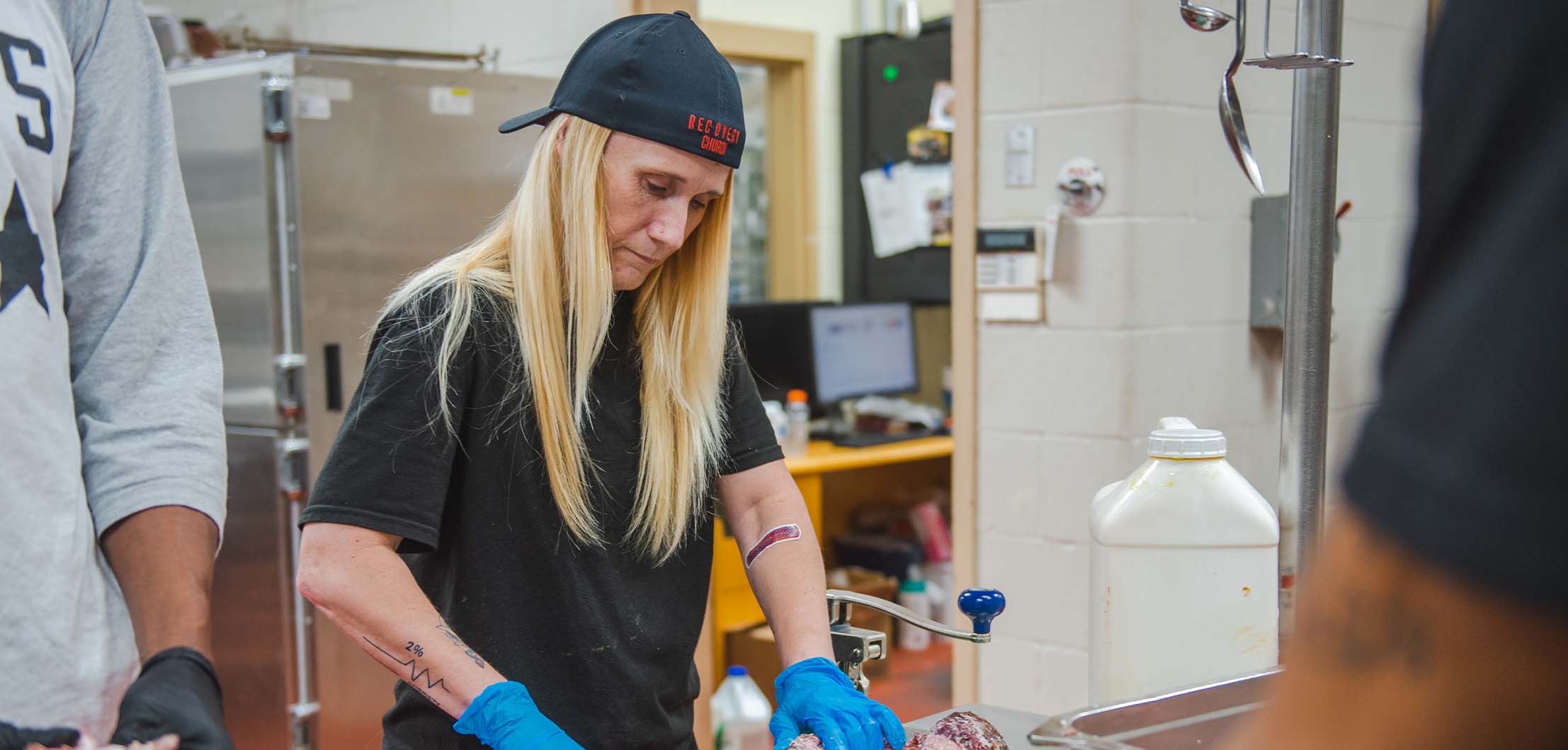 "One girl who went into the program graduated and wanted to work here," Angie recalls. "She said, 'You're the reason. You all are the reason why!'"
Beyond this family of friends Angie is building here, she's also seeing her own family begin to heal.
"I hadn't talked to my daughter in quite a while. I talked to her that one time, right before I came here, and she didn't know I came!" Angie says. "But I got a phone call from her: she contacted me. I was like, 'Wow. Everything is just . . . God.' It's like God saying, 'Here, look, this is what you can have. This is what you can do.'"
"It's all happening," Angie says. "It's just such a blessing. And in December, I got my daughter back!"
Angie's transformed life is a testimony to God's promise in 2 Corinthians 5:17 (NIV): "Therefore, if anyone is in Christ, the new creation has come: The old is gone, the new is here!" That's the kind of difference your support helps make possible, each and every day.