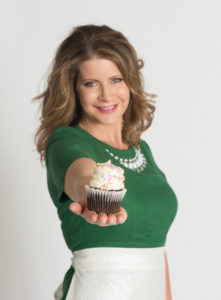 Faith is the first ingredient in my life. I've relied on my faith to get me through the best and worst of times. Second is relationships. My life has been blessed with wonderful relationships that have positively influenced my life. Third is the power of hard work. I've never been afraid to roll up my sleeves and get the job done. Finally is the power of love to change lives. These are the ingredients that fill my life and the very things I share in common with Nashville Rescue Mission.
I first discovered a love of baking while spending summers as a kid helping my Aunt Bennie, who owned a bakery and catering business. I loved to bake, but my real dream was to become a country music artist. I moved to Nashville in 1994 with less than $500 to pursue music. I cleaned houses during the day and sang at honky tonks at night. After several years, I realized it was unlikely that I'd be the next country star.
I began to focus solely on growing my cleaning business. A few years later, my brother called me, while I was in the middle of cleaning a house, to tell me he had waited in line at a cupcake bakery in New York for several hours for a red velvet cupcake. "Your cupcakes are so much better than these," he said. "You should really consider opening a bakery in Nashville."
In February 2008, I opened the doors to my first bakery—Gigi's Cupcakes on Broadway. I cleaned three houses that day just to pay the plumber for the shop. Then my contractor came into the store to deliver a $15,000 invoice he'd forgotten. I had a total melt down. I remember praying and asking God to show me a way out of this. It was a scary time for me, but I knew I had to get up and make it work. This was my dream, I truly believed in it, and I was not going to fail. The customers came in, and we had a line outside our door. Eight years later, we now have 102 stores nationwide. God is so good.
He's blessed me and I want to be a blessing to others. Since Gigi's first opened, we've made it a priority to give back to the community. Every day we deliver complimentary cupcakes to Nashville Rescue Mission in an effort to bring a little bit of joy to those who are experiencing homelessness. I'm honored to be a part of such an incredible mission to serve others. That's why I have supported and will always believe in Nashville Rescue Mission.
---
Gigi Butler is the founder and culinary creator of Gigi's Cupcakes. Gigi started her small bakery in Nashville, TN, in 2008 with $33 to her name. In eight short years, Gigi's Cupcakes has grown to 102 locations and is now the largest cupcake franchise in the country. In 2015 Gigi was the first Nashville CEO to be featured on the CBS TV show Undercover Boss.