A last will and testament is a legal document that lets you decide what happens with your estate after you die. Yet, according to a recent survey, only about 30% of Americans say they have a will, perhaps because many people believe one or more myths about creating a will.
Taking time to consider how you will bless family members as well as charities you care deeply about is a powerful way to communicate what is most important to you!
COMMON MYTHS ABOUT MAKING A WILL
MYTH
Wills are only important for people who have a lot of money.
FACT
There are many reasons to have a will. Wills can do quite a bit more than just name who gets your money and property. With a will, you can also nominate guardians for your minor children, name caretakers for your pets, leave instructions for digital assets, write your funeral wishes, and more. A will can also save your loved ones the time, money, and stress that comes with lengthy, expensive probate court proceedings.
MYTH
My family knows what I want—I don't actually need a will.
FACT
Your family might know what you want, but they won't get to make any decisions for you if you don't write them down in a will. Instead, a court will make those decisions based on local laws. And the court process can be long and cost your loved ones a lot of money from your estate.
MYTH
Writing a will is a long, complicated, and expensive process.
FACT
Not anymore! There are a number of online will-making tools out there today. Most of them charge for their services. But on FreeWill, you can fill out, download, and print your will for free in less than 20 minutes. Then all you have to do is sign your will with at least two witnesses and keep it safe.
MYTH
I'm young—I can make a will later.
FACT
Having conversations about death and money are easy to put off. But making a plan to provide for the people you love is beneficial at any age.
Writing a Will can be easy and free
To help you begin your legacy today, you can use FreeWill. FreeWill is a free, online estate planning tool that guides you through the process of writing your legally valid will in 20 minutes or less. It will also make it simple to include Nashville Rescue Mission in your will.
Here is a quick graphic that shows how easy making a will can be with FreeWill.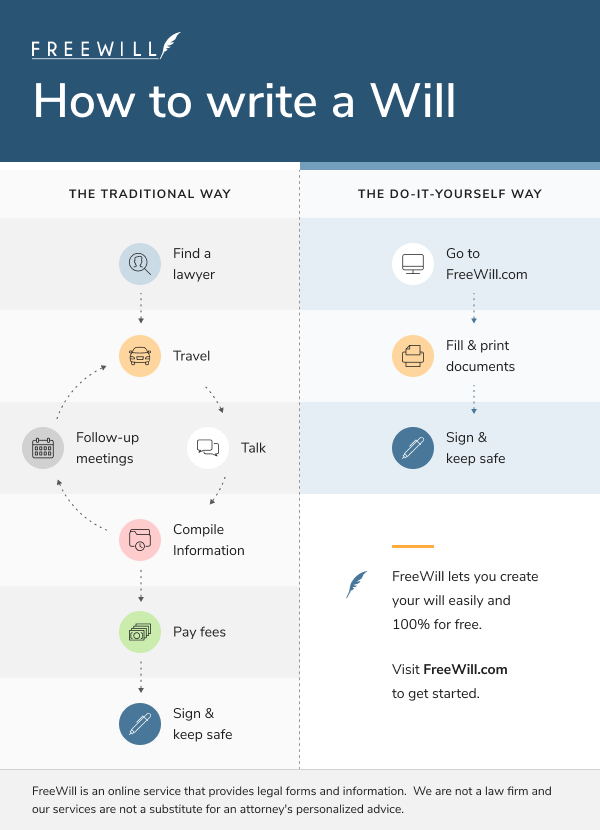 It's easier than ever to make a will. Create yours and gain peace of mind.