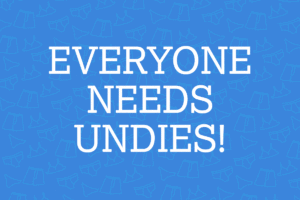 We are in urgent need of underwear for our guests! Each week, we distribute at least 150 pairs.
Can you imagine the despair of not owning something as necessary as your own underwear? 
Please help! We need new, packaged, cotton underwear – men's sizes large through 4XL and women's sizes medium through XXL.  

This is a great opportunity to get creative! Purchase a package next time you're shopping, share with your Bible study or sorority, have an "Undie Sunday" at your church, or maybe even host a "Panty Party" and ask your friends to bring new undies to donate.
Some groups are already getting involved. When Vanderbilt University heard of the need, they sprung into action and set up collection spots across campus. Their students and faculty are excitedly donating new packages of underwear for our homeless guests!
The youth group at Tusculum Cumberland Presbyterian Church hosted an "Undie Sunday" event and encouraged their congregation to bring their donations that next week. They even took some selfies to prove it…
We are so grateful for the community we live in and the desire of those who live here to help! Thank you for making an tangible impact in the lives of those in need.